2018-04-27, 11:40:07 pm (This post was last modified: 2018-04-27, 11:43:36 pm by thirthy_speed. Edited 1 time in total.)
To turn on the new Gmail, click the Gear button and click "Try the new Gmail". A gallery of screenshots of the new design can be found on
this Ars Technica article
among other places.
Overall the layout hasn't changed much, everything is still where it was in the old design. Most noticeable change is change of font to Roboto which gives it a more spaced apart look. A lot of people complained about this in the Ars article's comment section saying that the font is uncomfortable to look at, it's not compact enough, etc. Personally I think it looks good to me.
Appearance-wise, there are a bunch of changes/additions to the animations and button appearance, a prominent one being the fancy new Compose button. The old design has a bunch of rectangular buttons in the navigation and in the new design it's mostly borderless buttons. There are also icons for the sidebar items (e.g. Inbox, Starred) instead of just text. In short, Gmail's been adapted to Material Design and is now consistent with the modern Android look/feel.
A new change is that when you use the Default display density (other options are "Comfortable" and "Compact"), attachments show up as tiles under the email subject as shown in screenshot below. What's more if there's a Google Doc/Sheet etc. link in the email body, it will also be presented as a tile.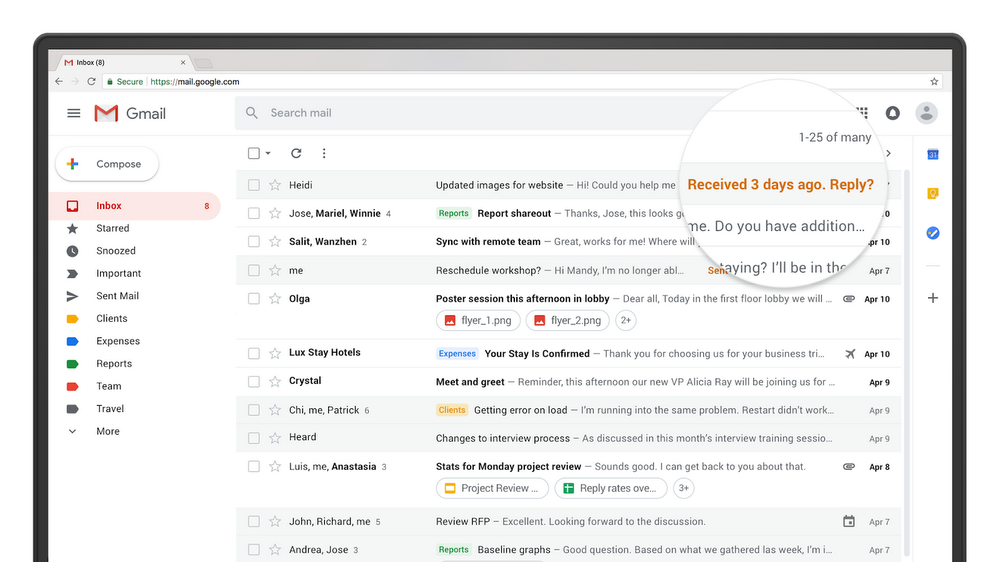 Feature-wise, you can now "snooze" emails (using the button with the watch icon) which hides them from the folder they're in until some user-selected date/time (I haven't really tried it yet). It also seems like you can un-send emails now as there's an "Undo" button that's shown after you send an email. Another new feature is integration with Google Calendar, Google Keep, and Google Tasks - you can access them within Gmail on the right sidebar and clicking them opens the application in a panel. I don't use these all that much but some people seem pretty excited about it. On top of these, there's supposedly a "Confidential mode" but I haven't look into it yet.
You can find Google's blog posts on the redesign
here
and
here
.